Cainiao Establishes Logistics Center In Chengdu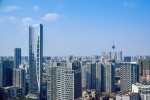 Alibaba Group Holding Limited's logistics affiliate Cainiao has established its first supermarket distribution center in Chengdu.
More China Sourcing News
• Sharon Mann
said:
Bought tv in 2010 and was functioning but over the course of time is now having...
• Sharon Mann
said:
1/2 the screen black. Was lines now 1/2screen..i know there are recalls and want to...
• Sayaka
said:
have a realistic disiusscon about China's option in Tibet. Look you can sermonize to...
• Amy
said:
We bought a sanyo A YEAR AGO and went to turn it on today and absolutely NO SOUND ! We paid...
• VIctor Liew
said:
Your snarky comments about Solaria's lack of transparency about what type of new...
• Willie Summers
said:
Great information. Good that sumsung will touch on social welfare and environmental...
• Terri Lane
said:
Great information. Soy sauce from China are very tasty. :)
• Kay Hyde
said:
This is good that china has a security contract with Australia. Contracts are very...
Recent News